The Five Dysfunctions of a Team
Submitted by

saeed

on Tue, 12/11/2012 - 10:40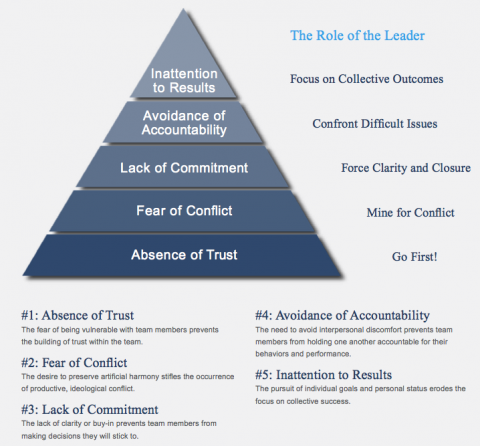 Book Review: 5 Dysfunctions of a Team by Patrick Lencioni
Reviewed by Dave Chin
Patrick Lencioni offers another interesting fable of a newly hired executive struggling to take the reins of a troubled company and create a functioning executive team. Kathryn Petersen, Decision Tech's CEO, faces the ultimate leadership crisis: Uniting a team in such disarray that it threatens to bring down the entire company. Will she succeed? Will she be fired? Will the company fail? Lencioni's gripping tale serves as a reminder that leadership requires as much courage as it does insight.
This is a fascinating and easy to read story where one gets to know the characters and participate in their business decisions. However, if you just want to learn about better teamwork, skip to the final chapters where Lencioni provides a powerful model for diagnosing the five dysfunctions of a team, along with actionable steps to overcome these common hurdles. The model is a pyramid, building from the bottom, up.
The 5 Dysfunctions are:
1. Absence of trust.
2. Fear of conflict.
3. Lack of commitment.
4. Avoidance of accountability.
5. Inattention to results.
Each dysfunction contributes to the next. Absence of trust brings on fear of conflict and so on.
I find Lencioni's advice to be clear, concrete and highly effective. I teach my clients these concepts. They appreciate the insights and learn quickly how to turn their own dysfunction (every team has some) around. With new awareness they begin to work more successfully as a team.